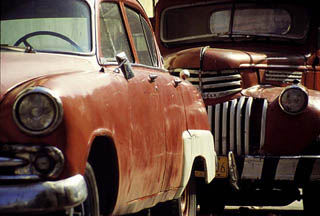 By Luis Felipe Sexto
You walk along a Cuban street and you think you have arrived at the crossing point of all times.
Visitors arriving in Havana enjoy e new world: old, strange and vital. We're not talking about colonial palaces. Nor of old fortresses. Neither about famous songs or dances. It has to do with the fascinating anachronous mixture of old and modern automobiles, because Cuba, and especially its capital, treasures an un equaled stock of ancient cars that are still circulating.
Some 155 000 vehicles manufactured before 1960 are estimated to be currently running. Most of them are North American Ford brand and Thunderbird. Also Cadillac, Buick, Chevrolet, Oldsmobile and Pantiac. Chrysler cars are also very popular such as Imperial, Chrysler, Dodge, Plymouth, and Valiant. Visitors may even find in the streets some long gone brand names. Such is the case of Packard and Studebaker, companies that disappeared in 1959 and 1963, North American laws that prohibit trade with Cuba made impossible for models manufactured during the following years to cruise on the archipelago's streets and highways.
Old European models such as Peugeot. Mercedes Benz, Volkswagen, Leyland, Morris and others also roll our streets openly defying the pass of time. Automotive history in Cuba started when the defeated Spanish army hadn't yet retreated. The first automobile owned by the merchant José Muñoz appeared on the streets in December 1898, causing the uproar of Havana's people. The French vehicle manufactured by La Parisiense was a big success and gave way to many murmurations, comments and fun making. Its incredible cruising speed was of 12 km/h and it cost 1000 pesos –almost the same as a good horse with a carriage.
It's estimated that in year 1917 there were around 4 500 automobiles circulating in the island, mainly in Havana. Many of these early relics may be seen in the Museum of Automobiles located in Old Havana's Historic Center.
The moving Museum housing old automobiles with more than 90% of their original parts and in perfect technical condition is really something. This club so attractive for tourists has the best kept cars –some of them were manufactured more than 80 years ago.
Cuba –an especially Havana- are the trusty holders of a moving and unique museum, thanks to the endeavor of conserving these automotive jewels of the past.